Deck The Halls
A downloadable game for Windows and macOS
Deck The Halls is a game about putting up Christmas decorations.
Using a Tinsel Cannon!
You are an elf (the festive kind), and your job is very simple. In challenge mode, for each house in the town, you will be presented with a photograph of how Santa expects the house to look. Head down their chimney and get decorating using your Tinsel Cannon, a specially designed weapon that allows you to shoot tinsel, baubles, stockings and more. But you have to be fast, you only have 30 seconds before the big man arrives!
If you want to practice, or just relax and decorate, that is fine too. In Free Decoration mode, some of the houses are empty for Christmas, so you can decorate those to your heart's content. In these houses, you also get a camera that saves pictures to your computer as png files. You can use these for Christmas cards, phone backgrounds, or whatever you like!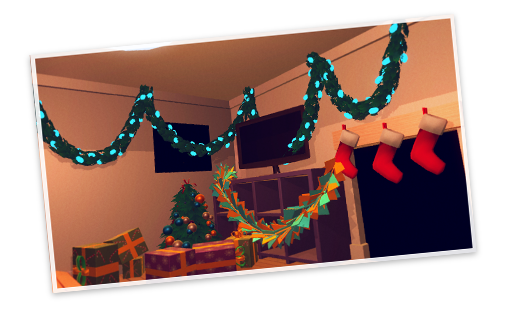 Key Features
Fire the Tinsel Cannon to decorate houses in 30 seconds.
Shoot baubles at trees, blast presents all around, and try not to make a mess please...
Take photographs in the free decoration mode, to use however you like!
Decorate the empty houses on the street however you like! Santa won't be visiting them, so he will never know.
Get festive to an original soundtrack by Robert Paul Allen.
A great stocking filler game, ideal for a gift, or to play as a break between the big releases!
COMPETITION 2018
If you join our Discord server HERE and post a picture of your best decorating skills, you could win a free copy of The Botanist on Steam! The winner will be revealed around Christmas day.